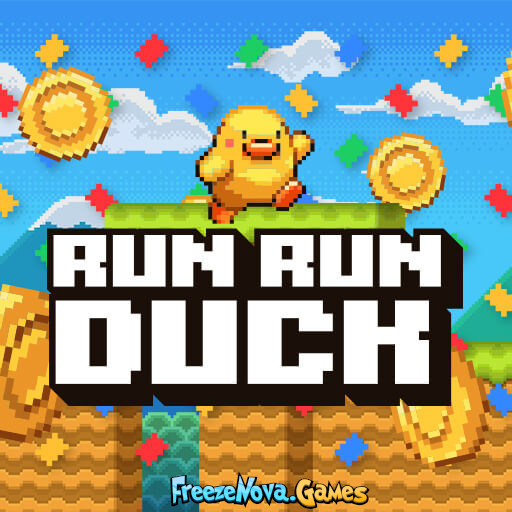 Hurry up and help the duck to make its escape through the challenging environments. The landscape is full of obstacles and enemies.

Jump on platforms to collect coins and many surprises that might give superpowers to the duck. The animated graphics will remind you of the classic Mario, a little duck is on the mission this time. 
Jump over the obstacles and enemies with great precision and agility. Avoid the dangerous situations and complete the level by finding the gold egg. Make sure the duck moves very fast before the time is up. You will have 2 minutes per level to complete the mission. There is no time to lose because the little duck needs help in all 8 levels. Luckily, it will have 3 lives, so do everything you can not to lose many lives.
The difficulty might increase during the progress in the game but you will gain a good score. 
You will never be bored because the duck will always be entertaining to watch while it makes its way, confronting many obstacles. 

Run Run Duck is a funny game but also suitable for all ages. Control the little duck and join the journey through the animated hazard.