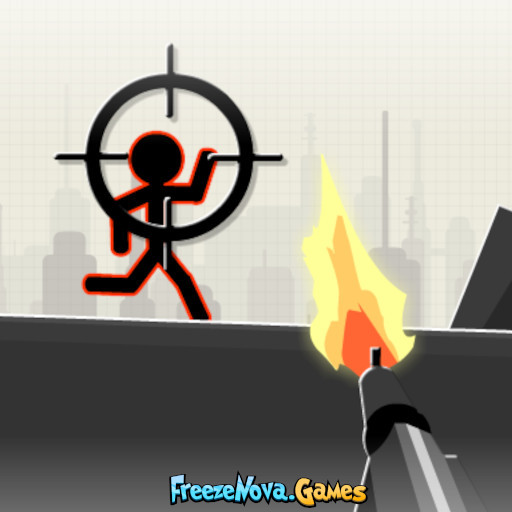 Welcome to Stickman War! Stickman War is an unblocked shooting game where you try to shoot the stickmen running around on the platform with a gun. You need to be extremely careful. Because they will come from all directions and they are very fast. Aim quickly and shoot them all!
How to Play Stickman War?
There are 27 challenging levels in Stickman War, and levels gradually increase in difficulty. In order to pass a level by getting all 3 stars, you must not let any stickman escape from the platform. Otherwise, the star points you will receive from that level will decrease. Open all 4 eyes, and don't let any stickman escape!
Shooting the Stickmen
When the game screen opens, you will see the aiming tip of your gun. It's best to hit them, taking into account that the stickmen are moving. Additionally, what you need to remember is that your gun may run out of ammunition. And reloading the gun takes time. You must find the appropriate time to reload it.
Detonating the Bomb
In later levels, stickmen will show reflexes such as bending and jumping while running, and this will make your job harder. They are also likely to get crowded. The best way to clear them is to detonate the bombs that appear on the platform while the stickmen are near the bomb.
Controls
Use the left mouse click to shoot the stickmen.

Use the R key to reload the gun.
Similar Games to Stickman War
Stickjet Challenge is an additional unblocked stickman game where the ragdoll sprints away from the spinning wheels without touching any red lines, which is a great alternative if you enjoy Stickman War. Alternatively, for more options, search Unblocked Games FreezeNova for other unblocked crazy and shooting games. Share your gaming experiences with us in the space provided for comments below!