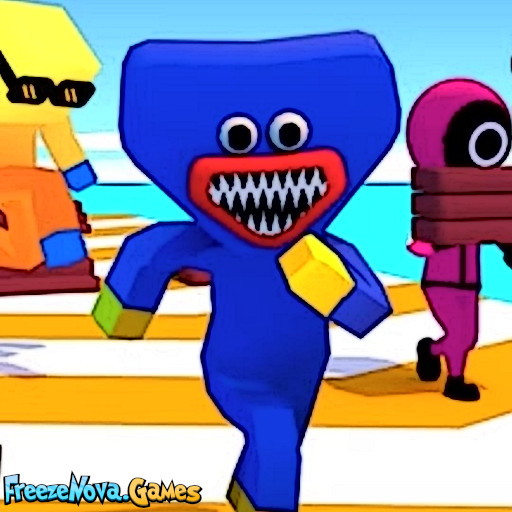 We're sure you have never seen a race like this before! Shortcut Race is a very different and exciting unblocked racing game where you run on the sea, collect planks, and use them to build bridges. As in every racing game, the aim is to be the first to reach the finish line. But to do this, you must create shortcuts for yourself with the planks you collect, just like your competitors do.
How to Play Shortcut Race?
Shortcut Race is a strategic racing game in which you must create shortcuts in the best way possible. You need to deceive your opponents and get ahead of them. As can be understood, the main issue here is not speed but strategy. But be careful because if you fall into the water, you will have to start the race from the beginning.
Creating Shortcuts
You will encounter bodies of water hindering your way as you race along the circuit. You must collect the planks about the path to get beyond these challenges. You can construct bridges out of these planks to shorten the race circuit. It only takes a few taps or clicks to lay a plank on the screen to construct a bridge.
Changing the Planks
As you win races, you will level up, and in the same direction, you can unlock new planks when you reach certain levels. You can unlock the plank you want when you reach the required level by clicking on the menu's plank icon on the left side.
Unlocking a New Race Suit
You can buy a new suit with the money you earn by winning races. When you click on the character icon on the left side of the screen, you will see the text "Random Unlock." You can get a random suite by clicking here. Let's see which suite will be your luck?
What Happens After Winning First Place?
If you succeed in winning the game, you will advance to a bonus round where you can increase your coin earnings.
Controls:
Use the A and D or the left and right arrow keys to move

You can also move the click and mouse side to side (optional).
Explore More Games
You may try Run Run Duck, a running game where you help the duck make its way to escape, if you enjoy playing Shortcut Race. Or you can look up other free and popular unblocked games on Unblocked Games FreezeNova for further options.