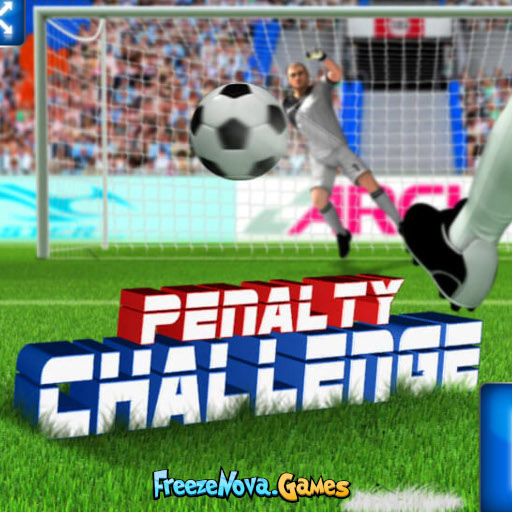 Step onto the green pitch. Take your position. You are the one behind the ball. You will determine the final score of the match. And all eyes on you! Kick your best shot to cheer the crowd! Make your team proud with your precise shots!
Penalty Challenge is a fun unblocked penalty shootout game where you can play as both the shooter and the goalkeeper. Choose your country and make your team proud in penalties. In this World Cup Penalty Kick game, you can choose from 32 countries' teams, including the US, England, Germany, Spain, Portugal, and Argentina.
How to Play Penalty Challenge?
First, choose your flag. You are competing for the World Cup.

The game will assign an opponent team for you. 

Each team has 5 penalties to kick. 

You will take turns with the opponent team.

Shoutouts will begin with your team. 

You should surprise the goalkeeper with the spot you chose. Set a clear angle so as not to miss or send the ball out. Focus on your aim. 

Make a clean shot to send the ball into the net. In order to kick the ball, swipe it to the desired spot.

Don't swipe too far or too close. If you swipe too far, you might miss the goal. And if you swipe it too close, the goalkeeper is more likely to save that score.

Don't underestimate the goalkeeper since he can make some incredible movements, especially at the later levels.

If you score a goal, well done! Now, you will play the goalkeeper. Tap or click on the screen when you are ready. Move your mouse to save the goal with catching gloves.

Beat the team with clean shots and get to the next team at further levels to challenge yourself.

Complete the tournament and win the World Cup!

If you would like to start over with a different flag, navigate to the main menu. And click on the icon on the bottom-left to clear your progress.
Controls
Swipe to kick the ball

Move your mouse to catch the ball
More Soccer Games
If you love penalty kick games but don't want to take turns with the opponent team, have a penalty training in Penalty Kicks. To have a 1x1 match with well-known soccer players, play Head Soccer Football. Take a look at the Sports Games tag to explore more unblocked fun games.