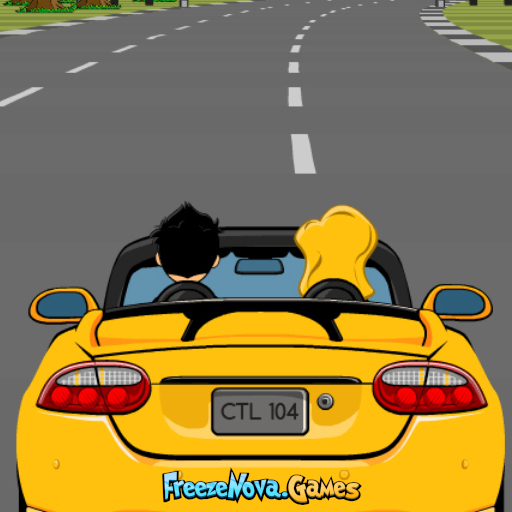 Take your girlfriend! You are going on a ride in an open-top sports car. Car Rush is an HTML5 racing game where you drive a cartoonish car rushing to the finish line before time runs out. Awesome visuals of various maps, the passenger princess by your side, and thrilling sounds add more to the excitement of this game.
How To Play Car Rush?
You will be given around 60 seconds to accomplish each parkour.

Accelerate the car to reach the destination before time clocks.

There will be other cars and trucks on the road.

You should avoid bumping into those vehicles.

Otherwise, accidents will slow you down.

Stay on the road so as not to hit any object around the path.
Heads-Up Display in Car Rush
Time Limit:

At the top left of the screen, you will see how much time you have to pass that level. 

Time Passed:

Under the time limit, you will see how much time passed after starting the race.

Time Left:

At the middle top of the screen, you can see how many seconds you have to get to the finish line.

Speed:

Check your speed at the bottom left and try to stay at your maximum.
Maps
There are 3 maps in Car Rush. You need to accomplish all the levels in a map to unlock the next map. 
Mountain View:

Enjoy mountain and tree views, and let the wind tousle your hair in this convertible.

Egyptian Deserts:

Palms and pyramids, endless desert view of Egyptian soils.

City Lights:

Reach the destination on a curvy path for a night out in the city.
Controls
Use your arrow keys to move the car.

Up: Acceleration

Down: Brake

Left: Steer left

Right: Steer right
More Games Like Car Rush
If you enjoy traffic games like Car Rush, take a look at the massive collection of Unblocked Racing Games by following the link. Highway Traffic is a must-play of driving games with its own unique challenges and realistic 3D visuals. If you prefer a more lightweight game, Neon Racer offers lots of fun and is smoothly playable on all kinds of devices, including mobiles.