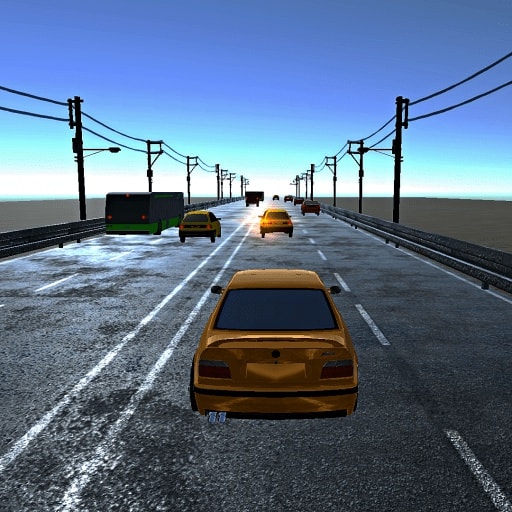 I get it — traffic doesn't seem like the most fun thing in the world. But you might just change your opinion when you play Highway Traffic on FreezeNova. The whole premise of the game is centered around driving down the highway, dodging other cars, and avoiding accidents. It gets tough because other cars are slowing down, speeding up, or stopping abruptly, so you always have to keep a lookout and be ready to make a quick maneuver. 

The key to this game is patience — it's not about racing; it's about slowly and carefully meandering through the traffic. The longer you go without hitting other cars, the more points you collect and the more upgrades you can get. Highway Traffic gets pretty difficult very quickly, so you really need to build up some skill if you want to make it to the higher levels! 

It also has several different modes to make the game even more fun and complex. You can choose different car models and styles and set different weather options to increase the challenge. Plus, it only takes a few computer keys to control your car so you can play Highway Traffic on pretty much any device. 

You know what it's like being on the highway. Sometimes cars just stop or slow down for good reasons or for no reason at all. This is the algorithm of this game and your duty is to avoid accidents and drive as smoothly as you can. As long as you can do that, you collect points and then upgrade. Having four game modes and three weather options at your disposal, all you need is some good luck and patience.
What are the game's features?

Multiple car models
Three weather options
Four game options
How to play Highway Traffic?

W or up arrow to accelerate
A/D, or left/right arrow to steer the car
Space bar to use handbrake
Left shift or F to use car boost