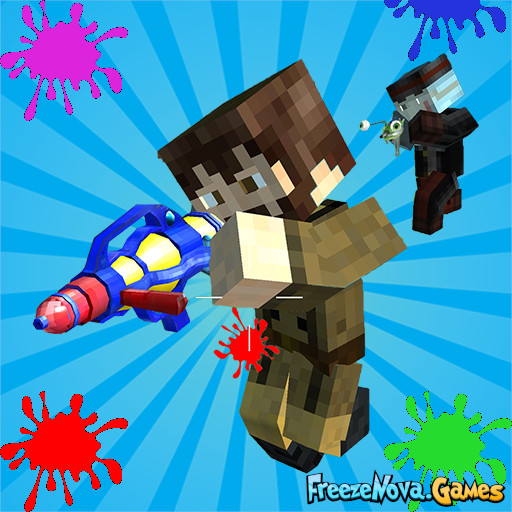 Let's go beyond ordinary war games, shall we? Xtreme Paintball Wars is an unblocked pixelated shooting game where you use paint as bullets. This will be a colorful battle! You have a range of paintball guns here, and all of them are unique. Choose the one that appeals to you the most, and start fighting!
How to Play Xtreme Paintball Wars Unblocked
This game offers you a lot of variety of gaming experiences. You can play with online players or fight against bots. If you want to play Xtreme Paintball Wars multiplayer, just click the "America" ​​button from the main menu. The servers will be listed in front of you. Or you can simply play the game offline to test your abilities.
Paintball Guns
You have 9 particular gun options. They are all unique in their own way. The first weapon given to you is the chameleon-like P22! You can even find a paint rifle among the weapon options. Our favorite is the heart-shaped paint bomb.
P22

Scrossbow

GRLauncher

P90

MAC 10

Wildwing

AK47

MP5

Grenade2
Creating Your Server
You can set up your own server. Just click the Create Server button from the lobby. When you come here, choose the number of players and bots you want to play with, then decide on the game mode. You have 5 game mode options.
Deathmatch (DM)

Team Deathmatch (TDM)

Wave Survival

Zombies

Gungame
Characters in Xtreme Paintball Wars
The most important thing that makes a game enjoyable is choosing your character. If you wish, you can get new characters by spending your XP from the "Character" section in the menu. 20 characters are offered for each category here. You'll find it divided into 3 categories: Team 1, Team 2 and Zombies. When you enter any game, you can join one of these 3 teams. The hero you choose for each category from the character section is selected according to the team you choose.
Controls
Master the controls for an edge in the game:
Move with WASD or arrow keys.

Shoot using the left mouse button.

Aim with the right mouse button.

Reload with the R key.

Jump with the Space key.

Run with the Shift key.

Switch weapons using the 1-9 number keys.
More Games Like Xtreme Paintball Wars
If you're a fan of Xtreme Paintball Wars, be sure to explore other exciting games like Pixel Survival, which challenges you to survive in the wild against zombies. For various free pixel and shooting game collections, visit Unblocked Games FreezeNova. Don't forget to leave your thoughts on the game in the comments below!