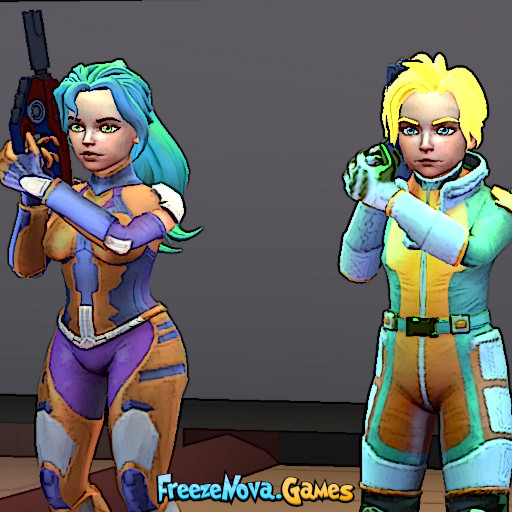 Welcome to the premier online battling arena! Only legends fight here. Legends Arena is an unblocked shooting game where you battle against your rivals as a team. You can play with at least two players: you and your teammate vs your opponent and your opponent's teammate. Legends Arena also offers you 3vs3 and 5vs5 team deathmatch game options. It is up to you which one to choose and play! Arm yourself and join the arena!
How to Play Legends Arena
You have been called into battle alongside players from around the world. Some will be with you, and some will be against you. Choose the map you want to play on and how many people you want to play with, and be deployed to the battlefield.
Heroes in Legends Arena
Before starting the game, you may want to decide which hero you will play the game with. Legends Arena offers you many options. You can view the characters by entering the "Heroes" section from the main menu. In the beginning, you can only use the Jane character. It's up to you to unlock new characters as you win battles. Below, We will list the names of some of the characters that are our favorites. Maybe you'll be interested.
Map and Player Options
You can fight in three environments: Justice Plaza, Chaos Square and Battle Stage. Each one offers you a different and vibrant gaming environment. You can also decide how many people you will fight against on each map: 2vs2, 3vs3 and 5vs5. You only have the chance to play 5vs5 in the Battle Stage area. Try it! It will be worth it.
Loots and Fortune
In this section, you can view the boxes you have earned by logging into the inventory. You will earn rewards, such as legend coins and character upgrades when you open them. Also, by participating in the sweepstakes, you have the chance to unlock new characters using your diamonds from the Store.
Controls:
Use the WASD keys to move.

Use Scroll Wheel or 1, 2, 3, 4 keys to change the current weapon.

Use Left shift to run.

Use the R key to reload bullets.

Use the C key to bend down.

Use the Space key to jump.
Similar Games
In addition to playing online multiplayer games like Legends Arena, CobraZ.io Classic is a must-try for fans of that genre. Alternatively, you can search Unblocked Games FeezeNova for more unblocked shooting games to give you more choices. Visit us often to find new online games!