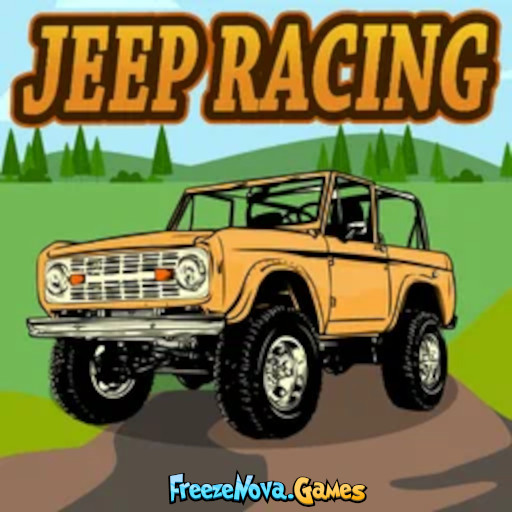 Jeep Racing is a 2D driving game where the player drives a jeep car on a hilly road at the foot of a mountain. It's a really rough road. It has many highs and lows. Use your precision steering skills to maneuver through the hazardous terrain and prevent any possible flips. Because in the event of a shock, your vehicle can flip over. Let's put you behind the wheel in one of the best driving games if you're ready.
How to Play Jeep Racing Unblocked
By clicking the "Play" icon as soon as the game launches, you can proceed straight to the level selection screen. You can begin with the first level and drive your car at the base of the mountain, or you can choose a specific level to play from here. To make your gaming experience more engaging, we advise you to customize your car before you begin.
Customization in Jeep Racing
Shape your vehicle according to your own taste by clicking the "Jeep" icon from the main menu. You may view six distinct types of vehicles here. You have access to the first two initially. You may use the money you get from the game later on to unlock the remaining four. Let's see what you can customize:
After selecting the vehicle you want to use, determine the color of your vehicle. You will find 4 colors here.

Additionally, you can use the money you earn to upgrade your car's engine and suspension power from here.
Multiplayer Option
You may play a multiplayer game mode with Jeep Racing as well. To engage in online jeep racing against individuals worldwide, simply pick "Multiplayer" located at the bottom of the level selection screen. You will automatically be placed in a 4-player playing room by the game.
Controls
To maneuver your jeep truck, press and hold the Arrow or WASD keys.

The car can jump by using the Space key. 
What is More?
If you like playing Jeep Racing, you may try Army Driver. Army Driver is a game where the player drives an army vehicle in a military area. There will be bad guys who will attack your vehicle. Move to the finish line by taking the least damage. If you are looking for other unblocked racing games alternatives, you can look up other unblocked driving and racing games at Unblocked Games FreezeNova by following the link. Kindly share your thoughts about the game in the comments section below!