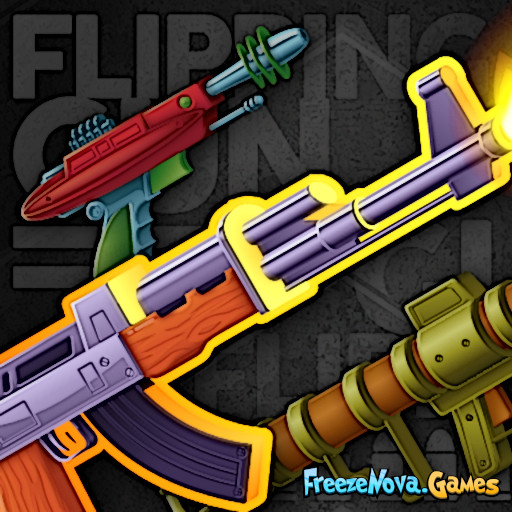 Are you ready to defy gravity? Flipping Gun Simulator is an unblocked shooting game where you try to climb with a gun by shooting it. It moves to the opposite side when you fire it. Considering this, you should try to move it. You also need to collect coins and ammo. It's hard work, isn't it?
How to Play Flipping Gun Simulator
Start the game by firing your gun. If you fire the gun in the desired direction, it will move in the opposite way. For example, if you fire the gun while it is pointing downwards, it will move upwards. You need to move it upwards like this. If it falls into the gap, you lose.
Search for Unblocked Games FreezeNova on your browser

Enter the site

Go to the search bar in the upper right corner and look for Flipping Gun Simulator

Tap to the game and start to play
Getting New Weapons
You have 5 different weapon options. But only one gun is available to use in the beginning. Use it and collect coins to unlock the other 4 weapons. Each weapon has a unique shot strength. It means that movement intensity varies according to the weapon type. Below, you can see the types of weapons in the game.
Revolver:

Free to use. The Revolver has 12 ammo.

Assault Rifle:

Unlock it with 100 coins. The Assault Rifle has 30 ammo.

Laser Gun:

Unlock it with 200 coins. The Laser Gun has 20 ammo.

Shotgun:

Unlock it with 400 coins. The Shotgun has 12 ammo.

Bazooka:

Unlock it with 1000 coins. The Bazooka has 12 ammo.
Controls
Use your left mouse button to fire.
Discover More Games
If you enjoy Flipping Gun Simulator, try Mr Space Bullet. In this fantastic 2D scroller game, you help a tiny man rise higher by eliminating evil enemies one by one. Check out the unblocked shooting and gun game collections at Unblocked Games FreezeNova for further choices. Kindly share your gaming experiences with us in the space provided for comments below!