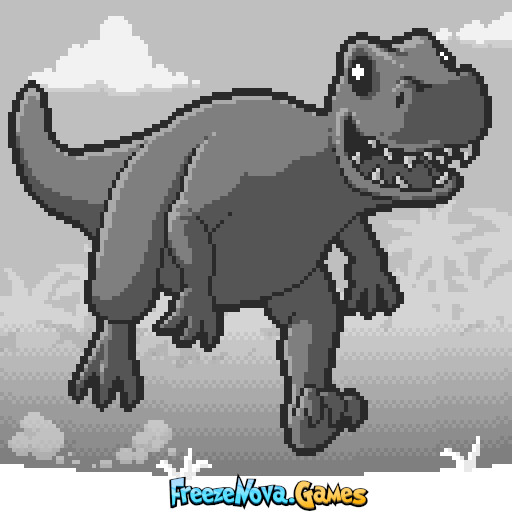 Embark on a prehistoric adventure! Dino Game is an endless running game where you run as a dinosaur and move through thorny bushes, birds of prey and flying arrows. Actually, you know this Dino from somewhere. Remember the T-Rex that appears in your Chrome browser when your internet connection is lost! This is the online version of that game. The only difference is that you no longer have to be disconnected from the internet.
How to Play Dino Game Unblocked
Play the Dino adventure game and escape Jurassic! When you start the game, Dino will automatically start running. Your task is to make him escape from the obstacles. Thorny bushes, flying predatory creatures and arrows will be your obstacles. From time to time, you will come across rocks that are very big. You need to execute your moves well. Sometimes, you will have to jump, and sometimes, you will have to bend. Keep your eyes peeled!
Open your web browser and search for Unblock Games FreezeNova

Enter the website

Search Dino Game in the search field in the upper right corner of the site

Open the game and tap to start to begin running
Precise Jumping or Leaning
While Dino is running, it would be beneficial to calculate exactly where you should jump or lean. It may suddenly get dark in some places, and this will make your job difficult. You have to be very careful when it's dark out.
Avoid getting too near to the plants, birds or rocks or attempting to jump from too far away.

For if the dinosaur is pricked by even the smallest thorn, it will perish. If you attempt to jump from space and the distance is not properly set, you can land squarely on the plant.

When it comes to hopping, especially at night, you have to exercise extreme caution.
Getting New Dinos
As you break your high score, you can unlock new dinos. You can view the dinos by clicking on the dinosaur icon in the upper right corner of the main menu. Running with different dinos will add excitement to your game!
Controls
To leap, press the W, Upper Arrow, or Spacebar keys. You can also click with your mouse, whichever you'd like to use.

To lean down, press the S key or the Down Arrow key.

On your tablet or smartphone, tap to make a jump.
You May Also Like
Try Geometry FreezeNova, another running game where you run as a geometric shape through dozens of obstacles, if you find Dino Game enjoyable. Or, you may look up other unblocked arcade games at Unblocked Games FreezeNova for more game options. To maintain the excitement, come back often for brand-new, thrilling games!