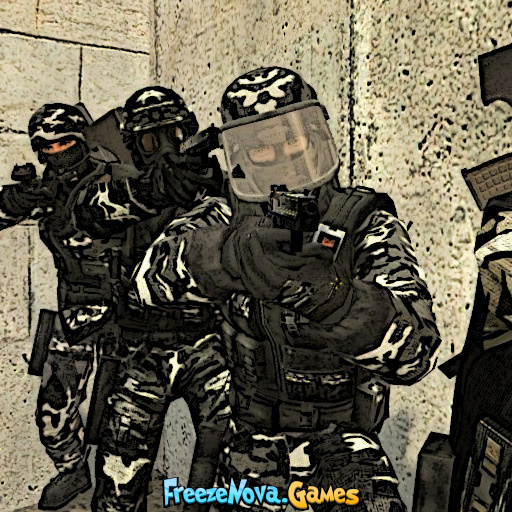 Ready to hunt down rising terrorists? Give a shot to CS Online, an unblocked multiplayer tactical shooting game. CS Online is inspired by the legendary Counter-Strike series, and the realistic 3D graphics are on par with the originals. You can arm up formidable weapons, including MP5KA4, STW-25, RPG and many more. Choose the one of your style and join the deathmatch to eliminate all the terrorists.
Creating a Room in CS Online
You will make several decisions while creating a room of your own in CS Online. 
Start by giving your private room a name that appeals to the leading players.

Set the maximum limit for the number of players.

Set the game mode you would like to play. Are you ready for a battle royale-style free-for-all (FFA) match? Or do you need your pals by your side while celebrating the victory at the end of a team deathmatch?

Choose the map to battle on. If you need further information on maps, keep reading this guide.

Decide on the weapon policy in the room. All weapons, Crazy Mode, All no RPG, RPG, Sniper, Machine Gun, Pistol or Random are your options.  

You are now ready for wild combat if you have decided on these choices. Hit 'continue' and start the battle. 
Explore the Maps of CS Online
You may choose to play on different maps of CS Online. There are eleven maps in total that are waiting to be explored. Each has its unique surroundings that will captivate you for hours. 
If you are fascinated by historical places and ancient cultures, enter in Sanctum, a temple constructed entirely from stones. You may try Sumerra with Eygpitian drawings or venture into the mesmerizing world of Tabourma.

If you are looking for a tactical battle and more settings and barriers to hide behind, you can choose Harbour, Ship, Barricade or FactoryX. 

If you're in the mood for a gladiator-style free-for-all show, the Arena is an absolute must-play.

Exploring all the intriguing maps that unblocked CS Online has is completely recommended. Learn the maps as the back of your hand, and do not give your opponents any openings. 
Full List Maps
Here is the complete list of maps waiting for their new soldiers. Choose the one you like and start the battle. 
Sanctum

Yarimar
Sumerra
Tabourma
Isaneya
Barricade
BunkerX
Ship
FactoryX
Freedom
Arena
Weapon Choices
You can arm the coolest weapons in CS Online by pressing the numbers between 1 and 9. 
Ballistic Knife

Deagle
MP5KA4
STW-25
M87T
Blaser R93
RPG
M79
M67
Controls
Left mouse button: Shoot

Right mouse button: Aim
R: Reload 
C: Crouch
Space bar: Jump 
Hold shift: Run
P: Pause
1-9 key: Change weapon
T: Open chat
Enter: Send message
Tab: Open the menu
More Unblocked Games
If you enjoy unblocked shooting games, you should check out all the options you have in Shooting tag. For another web browser version of a legendary game, consider playing GTA Simulator.