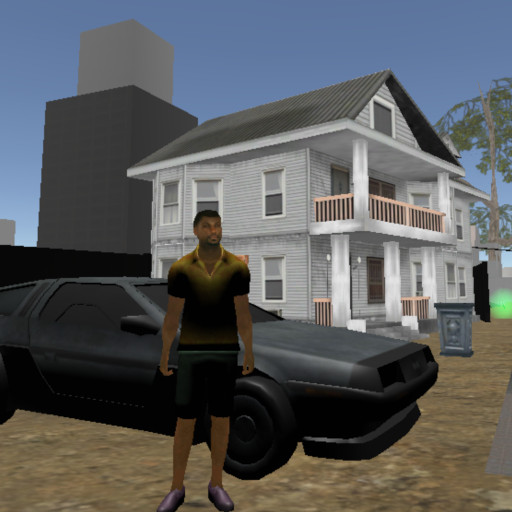 GTA Simulator is a game that will let players explore a virtual city. There is complete movement of the character, but tasks and missions will also come along. That means you will engage in various dangerous activities to obtain the achievements.

The safe option to complete a mission is always to follow the map. You will get used to the streets and surroundings because the map is filled with activities and places you need to reach. The character can use cars and any other vehicles to make the job easier. Participate in intense shootings and eliminate any bad guy that comes your way with a gun. The game offers full action, strategy and clandestineness.
Also, some friends might offer you guns and tell you how to buy ammo. He might request that you take the luggage to different points in the city. Make progress in increasing the level and get points to become stronger in terms of health, health regeneration, stamina, bullet defense, energy defense, explosion defense, melee damage, melee attack speed, scatter bullets, explosion damage, explosion force, driving max speed and car acceleration.

In the shop section, the following items are available: weapons like crowbar, glock, AK-74, shotgun, launcher and ammos. Clothing items like hat, shirt simple and flame pants can make you stronger in melee attack speed, stamina, driving max speed and protecting the health. You can choose to buy a variety of cars and motorcycles. If you want to be more exclusive and run the city, it is possible to acquire a tanky.

Remember to check the list of achievements that can bring you more profit balance.
Dig into the city and complete the achievements: die 10 ten times, die by drowning, collision, explosion and car accident, steal a jeep, taxi and van, get level 20, buy 10 things, drive taxi for 600 seconds, find all crusher, find all naxeex- caps and find all butterflies. 

Experience life on the streets as a true gangsta, unafraid of anything. The storyline is full of surprises so be prepared to get into the adventure of bad guys.

GTA Simulator Controls:
WASD or arrow keys to move;
Swipe to rotate camera (click and drag);
F to enter or leave a vehicle;
E to attack;
Space to jump;
Left shift to run;
Escape or tab to toggle pause menu.