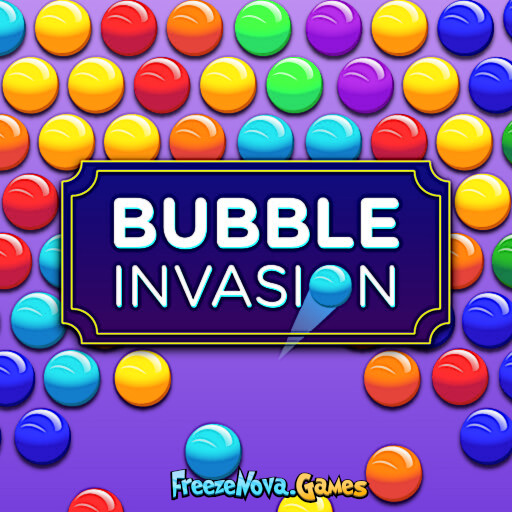 Bubble Invasion is a puzzle game where you have to clear the screen of colored bubbles by matching the ones with the same color.

We created a layer filled with colored bubbles. Create your strategy and pop up the connected bubbles to create matches and eliminate them from the screen. It would help to move fast before the bubbles go down on the screen. As a tip to keep in mind, you will have a better score if you hit more bubbles in one move.

To make the gameplay more accessible, you will get help from the power-ups. You can save a lot of time and of course, you earn more points. This way, you will still be engaged in the game and have more fun.The following power-ups are ready to come with your help: pop the bomb bubble to create an explosion. The bolt bubble will clear the entire row. 
The clock bubble will slow down time so you can eliminate the balls if there are too many. 
The star bubble will clear the level. If you shoot to it, you complete the level.
The rainbow bubble will get 3 rainbow bubbles. 

Get ready to solve endless levels and test your puzzle-solving skills to become the master of bubble popping.