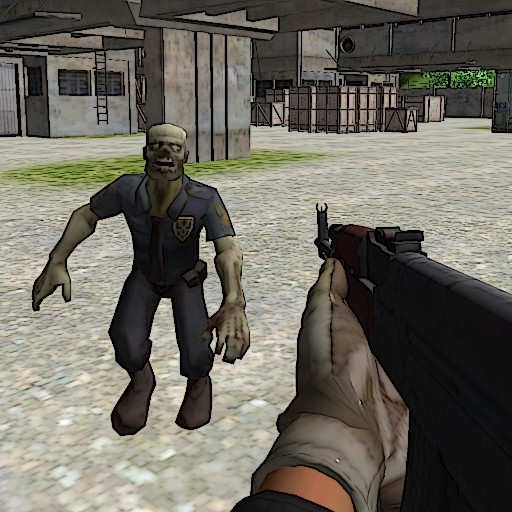 The city is in danger. People and animals turned into zombies. You are the last hope of humanity. Stop the Zombie Apocalypse.

Zombie Apocalypse Shooter is the game where you become a hero with the mission to save humanity from becoming zombies. The environment is dark and terrifying. The main action takes place in an abandoned city with industrial buildings.
Zombies are very powerful creatures. That's why you need quick reflexes and a strategic mind to destroy them.

What item can I buy from the shop?
You can buy weapons from the shop section: Handgun, SMG, M14, Ak-47, Machete, Grenade,9mm, Scar-L, UMG, Bidenhander and Shotgun.
The weapon you possess can have a great effect on your shooting performance. So choose wisely and grow your chances of survival.
Gain gold coins to unlock these weapons that can help you create shot damage against the zombies.

Is it hard to complete all the levels?
On the map section, you will find 40 levels for day mode and another 40 levels for dark mode.
You have a certain number of undead creatures to eliminate at every level. If you follow the red arrows from the map, be ready to meet the zombies who will want to attack you. 
Watch out for the dogs that will come after you. There are levels where zombies find weapons. Don't let them shoot you. If it happens to get hurt, you will find health packs meant to restore strength.  It is easy to finish successfully the levels if you are brave and have the necessary tactics. Using the weapons will make it much easier to overcome the waves of zombies.

Being a survivor and shooter at the same time proves that you are here to be the hero of the world.
Controls:
- WASD or arrow keys to move;
- Left shift to run;
- Space to jump;
- 1, 2, 3, 4, 5, 6, 7, 8, 9 to change weapon;
- G to throw grenade;
- Left mouse click to fire;
- Right mouse click to aim;