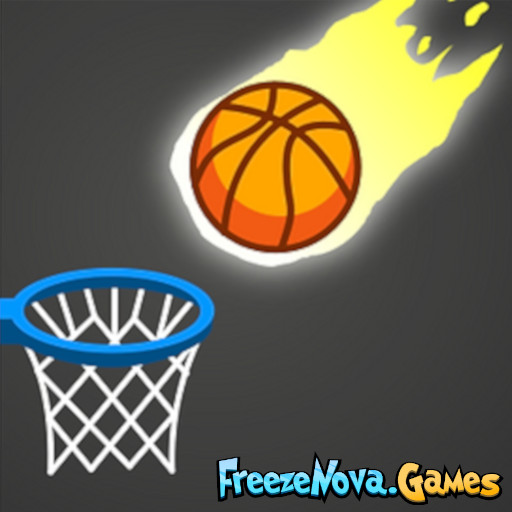 How many slams can you dunk within a limited amount of time? Tap Tap Shots is an addictive sports game where you try to make a basket as much as you can before the time runs out. You need to hit the basket by adjusting your angle well. The ball should not go out of the basket.
How to Play Tap Tap Shots Unblocked
To move the ball, you need to click with the mouse. The more you click, the higher the ball moves. But the point here is to put the ball into the basket, so adjusting the height well is the primary task. If it goes too high, the ball may go out of the basket. Be careful not to miss any shots. Let's see how many baskets you can score in a limited time!
The Timer is Ticking
Once you fire your first shot, time starts to run out. The bar you see at the top of the screen shows you how much time you have left. You need to keep an eye on this place. You must make a successful shot before time runs out.
Scoring Big: Making Perfect Shots
Regular shots earn 1 point each but aim for perfection to score big. Pass the ball through the center of the basket at a good angle to earn 2 points. Chain together successive perfect shots to increase your score, and watch your ball ignite in flames. Don't miss this scoring opportunity!
Is Tap Tap Shots an Unblocked Game?
Yes, Tap Tap Shots is a free, unblocked game where you can access it from anywhere without any restrictions as long as you have a stable internet connection. You can play it on your mobile, computer, tablet and Chromebook.
Controls
To perform a slam dunk, all you have to do is use your mouse.
Similar Games Like Tap Tap Shots
Try Basketball Slam Dunk, a pixelated basketball game where you attempt to slam as many dunks as possible, if you like Tap Tap Shots. You can compete against a bot or play this game with a friend. As an alternative, check out Unblocked Games FreezeNova's other categories of free unblocked games, such as sports games. You'll always have something fresh and entertaining to play if you stay connected!