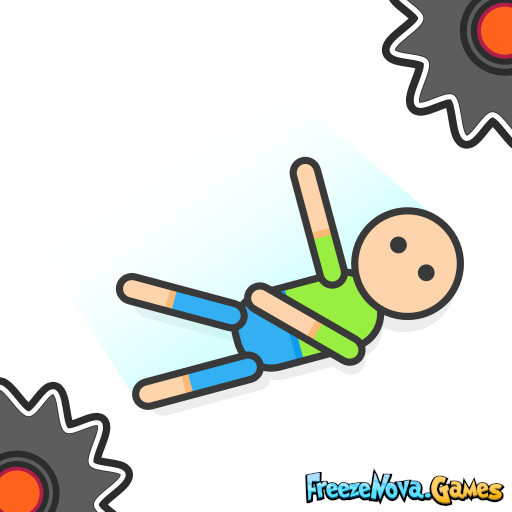 Prepare for an exhilarating descent in Ragdoll Fall, an unblocked ragdoll game that challenges you to embrace gravity and fall as far as you can. The deeper your ragdoll plunges, the higher your score soars. It's an addiction to plummeting that even the Ragdoll can't resist, especially when spinning wheels are involved. This Ragdoll loves excitement. Your only competitor here is yourself, as you strive to surpass your own record with each playthrough.
How to Play Ragdoll Fall
At first glance, Ragdoll Fall may seem like child's play - just send the Ragdoll flying from the ground to the ground, right? But don't be deceived by its simplicity. As you advance through the game, you'll face mounting challenges. The gaps between concrete pillars widen, and you'll encounter precarious, thin ones. Falling through the gaps spells doom, and you'll have to start over.
Beware of Spinning Wheels
You will see spinning wheels placed on concrete along the route. If Ragdoll is worth all this, it won't be good! From time to time, these rotating wheels will be moving left and right, which makes the job difficult. Sometimes, there will be two or three wheels on the same concrete column. You should avoid these as much as you can.
Thin Long Platforms
The game will narrow the width of the concrete platforms considerably to tire you out. When dropping the Ragdoll, you must hit it right in the middle of these thin platforms. Otherwise, it is very likely that the Ragdoll will slip through the gaps and disappear into nothingness.
Controls
Use your mouse button to hit the Ragdoll concrete pillars and get the highest score.
Explore More Ragdoll Games
If you enjoy playing Ragdoll Fall, you should definitely try Stickman Ragdoll, a physics game where you have to figure out the ideal positions and maneuvers for the Ragdoll to jump.