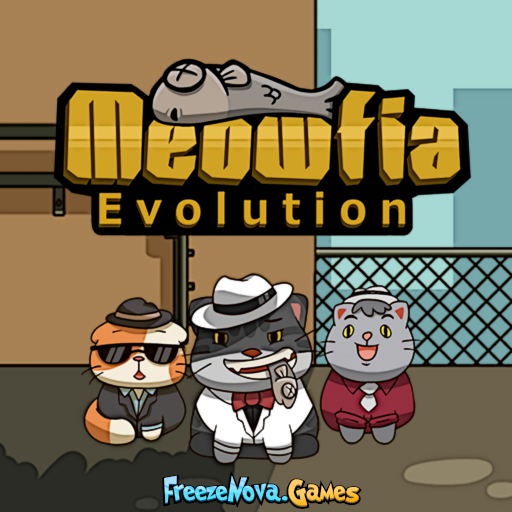 Welcome to the world of cat felines. A group of dangerous cats decided to build and expand a meowfia empire. You begin with a small, dirty space where the cats do their activities. They are very happy when the fish delivery appears. Increase the number of cats by taking the bag delivery. The Meow magnet will help unlock new cat members with unique abilities and skills. You will need to use the poop scoop to collect the gold coins every second.

As you progress through the game, you will gain another space. This time is for luxurious and rich cats. Let's see how many cats you need to unlock to keep the Meowafia active.
Kitten - young and seemingly innocent. Kitten dreams of becoming a 'made cat' - coin/sec: 1 
Piccicatto - grumpy, low-ranking Meowfia member. Tuna is its happiness - coin/sec: 3 
Scratchfella - almost hairless, on account of obsessive fur - coin/sec: 5 
Meownion - can sometimes be a bit of a warmonger but it secretly loves belly rubs - coin/sec: 9
Furry de Niro - true blooded New Yorker, but hates anchovies in pizza - coin/sec: 17 
Catsigliere - likes to wear dark sunglasses to hide the fact that it's always sleeping - coin/sec: 33 
Al Pusscino - capable of consuming vast quantities of catnip and peanut butter - coin/sec: 65 
Capodikitty - silent type but becomes talkative when it sees pigeons – coin/sec: 129
Catleone - highly territorial but has a penchant for getting lost – coin/sec: 257
Ultimate cat unlocked: The Godpurrer - you reach level 1 - this Big Boss always says, 'Revenge is a dish best served with gravy.' - coin/sec: 513
The Upgrades available are for Bag Delivery, Fish Delivery, Poop Scoop, Meow Magnet and Double Coin Boost. 

Engage in the storyline of Meowfia World and dominate the city's underworld with the most interesting cats. Increase their reputation and let them become more powerful.