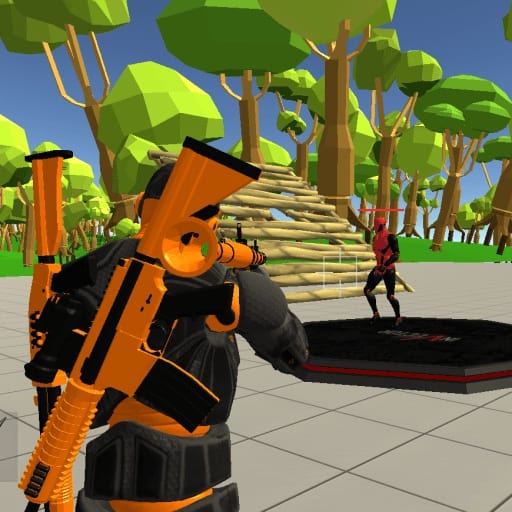 Fort Shooter Simulator is a great simulation game where you can build forts and train  with different weapons. You get three structure options, various weapons and projectiles, you have complete freedom to use your imagination and build the most amazing fort.
This shooter is training the warrior in you as you need to improve your capacity to shoot down enemies. Choose your weapons and play as a sniper or fight the other AI opponents, trained to teach you how to defend yourself. Action is an engine for adrenaline. Let's not forget what brought us here.
Are you willing to show your powers in real games? Try first by improving in advance. And as a bonus, you get to build fortresses and shelters, like a real fighter that must survive in the wilderness. 
Features:
Multiple accessories and weapons to use
Different crafting options
Good graphics
Your own world to design
Controls:
WASD to move
Right mouse button to aim
Left mouse button to spawn fort part or shoot
E to cancel building or to pick-up a weapon
1,2,3,4 to switch a weapon
5,6, or 7 to build a structure
Space bar to jump
L or Escape to toggle mouse cursor lock