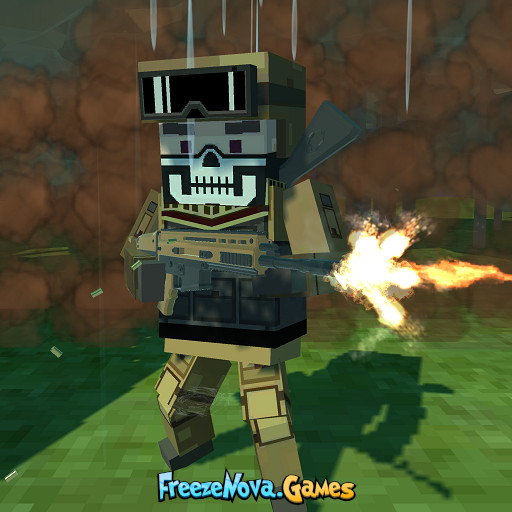 Blocky Combat Swat is a 3D shooting game where the player engages with pixelated zombies. These zombies can appear from anywhere, from any corner. They may approach you by crawling, running, or sneakily. Stop the zombies from attacking you and destroy them. These zombies are the kind that don't die easily; just when you think I shot them and I'm saved, you will see them crawling towards you. You'll have a lot of fun playing this game, which is similar to minecraft!
How to Play Blocky Combat Swat Unblocked
When you start playing the game, zombies will start to flock to your area from all over. And your mission here is to eliminate them one by one. But you have to be careful because these zombies are resilient. The kind that doesn't let go when they hold you. And unfortunately, they do not die easily.
If you wish, you can play this game in multiplayer with online players, or you can complete the tasks in single-player mode. Make your choice according to your mood!
The Campaign Mode
You can access the mission map by selecting the "Campaign" option from the main menu, and you can play as a single player. You must complete the tasks one at a time. In single-player games, you can choose which team you want to play for. For example, you have the right to be in the first team or the second team. Or you can play as a zombie.
The Multiplayer Mode
Click the "Play in America" button from the main menu to start a multiplayer game. You will be taken to the lobby as a result. You can view servers that are available or start a new server from this page.
Creating a Server in Blocky Combat Swat
In order to start a room in the game, navigate to the lobby by selecting "Play in America" and then click the "Create Server" option located at the lower right corner. Selecting your preferred game mode is the first step in building a server. It is up to you to decide how many opponents and players are allowed at a time. After selecting the game map, you may finally launch your server. The game has the following game maps.
Shipment

Arena

House

Mineboy

Backlot

Hospital
Game Modes You Can Find
With so many different game modes, Blocky Combat Swat enhances your gaming experience. The game modes are listed below.
Deathmatch

Team Deathmatch

Wave Survival

Zombies

Gun Game
Weapons Section
Blocky Combat Swat provides you with eighteen distinct weapon choices. At first, you have access to five of these: Handgun, Rifle 1, SMG 1, Sniper 1 and Shotgun 1. When your character ranks up, you can unlock new weapons. Use numbers 1-5 to change your weapon while in the game.
Controls
To move your player, press the WASD or Arrow keys.

To fire, press the left click.

Aim with a right-click.

To reload, press the R key.

To halt, use the Tab key.

You can use the numerical keys or scroll the mouse to change the weapon.
Similar Games
Try out the games we've listed below if you like this one!
Xtreme Paintball Wars: In the pixelated FPS game Xtreme Paintball Wars, paint is used in place of bullets. This conflict promises to be lively! There is a variety of paintball guns available here, and each one is different. 
Realistic Zombie Survival Warfare: In another shooting game, Realistic Zombie Survival Warfare, your goal is to survive amid the vicious zombies. Attacks from zombies will come at you in waves.