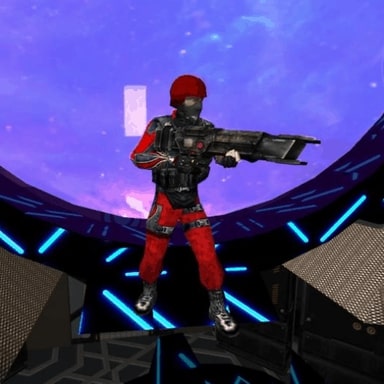 SpaceGuard.io is a multiplayer FPS in a sci-fi theme with crazy features like portals and jump platforms.
We know you appreciate good graphics and animation so we have created SpaceGuard. Your needs are now fulfilled. If you play this game, we have to inform you in advance that it is visually enchanting. More than that, besides being colorful and engaging, you will be transported via portals and you have jumping platforms.
Is there anything else you could ask from a game? Ah yes, you want action. Well, this is the right place. An action-packed game at your disposal. Don't lose any more time and start playing! 
Features
Space environments with 4 hand-made maps
Quake-like experience
Character skins
2 game modes (deathmatch, team deathmatch)
Controls
WASD or arrow keys to move
Left mouse click to shoot
Right mouse click to aim
C to crouch
R to reload
Space to jump
Left shift to run
1,2,3,4,5 to change weapons
Tab/P to toggle in-game menu