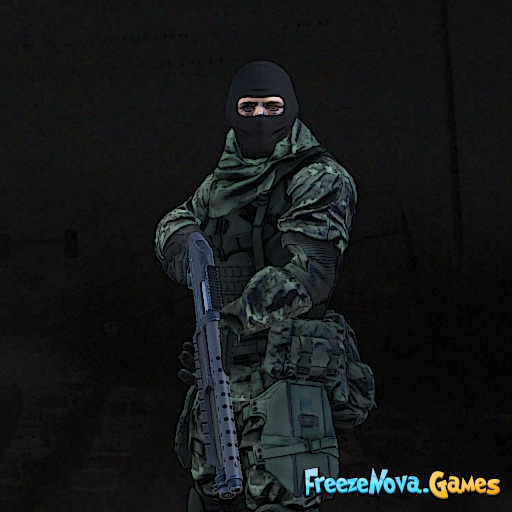 Welcome to a brand new shooting game where the skills and abilities are crucial to complete every mission objective. Because you are a member of a special elite unit, the best equipment will be delivered to you. Choose the weapons and armor that will help and protect you in challenging environments. The enemies come your way from unexpected places, don't be afraid to shoot them. 

What item can I find to buy in the Armoury section?
In Armoury section, you can choose any arms from MP5K, CZ75 to knife, grenades, syringe. These are the items created to eliminate the enemy forces.
In order to keep you safe from bullet harm, it is necessary to wear helmets and armor.
Also, you can select perks that will give you advantages in different combat situations. The perks are quickdraw ammo, bolt runner, silence walker, explosion master, bomber man, samurai, uav ghost, scavenger, sitrep and fast drawer. 
When you manage to catch and shoot an enemy, you can customize the message that he will be able to see. The kill messages are You noob, LOL, Good try, You picked the wrong house, That's not how the soldiers do, Why so serious, and Wrong way, sir.
Of course, your soldier can also perform a little dance. The emotes you can choose are: Victory 1/2/3, Chicken dance, Robot hip hop dance, Macarena dance, Wave hip hop dance, Tut hip hop dance, Boogaloo dance and Thank you dance.

How many modes can I play?
It must be said that you can play offline or online joining servers. Before you start, a mode must be selected. Let's see the characteristics of every mode.
Team deathmatch is where players are divided into 2 teams. Both groups have the same objectives. Working in a team is important to achieve faster victory. 
Free for all is destined for those who prefer to play alone and create their strategy. 
Capture the flag is the mode where you again work in teams. Reach to the enemy's base, take the flag and bring it safely to your location.
Gun game mode will allow you to unlock new weapons. You start with a basic weapon and then as you win battles, it gets upgraded. 
Arcade Doom mode makes you feel invincible in the battle zone, possessing weapons and grenade launchers.

Remember that you can create your own room. Choose how many players can join the battle, the game mode, the road time, the goal, the bots and the map.In this way, you can bring to life your vision in the shooting world.

Guerrillas.io Controls:
WASD or arrow keys to move,
Left mouse click to fire,
Right mouse click to aim,
Space to jump,
Q to slide while running,
Left shift to run,
1, 2, 3 to change weapon,
E or F to interact / pick up weapon,
G to throw available granades,
H to use available medkit,
T to chat,
L to toggle cursor lock,
C to crouch,
Hold Tab to show scoreboard,
Escape to pause.