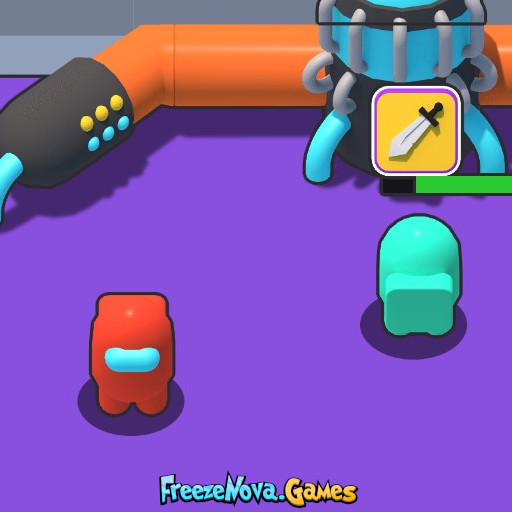 Are you ready to spy? Among Impostor is a free, unblocked game where you try eliminating little crewmates from doing their tasks. They have been given tasks, and they must fulfill them completely. You are among them, too. But you are not actually one of them! Your mission here is a bit of an "impostor." You have to prevent them from performing their duties. You have to eliminate them and destroy the evidence. Welcome to the world of thrillers!
How to Play Among Impostor?
Among Imposter is an exciting game because you are among a group of crewmates, and you seem friendly to them. But actually, you are there to sabotage them. You need to eliminate them before they finish their mission. And while destroying one, the other must not witness it; otherwise, a dead body will be reported. If this happens, it means you have failed.
Eliminating a Crewmate
Catching one of the crewmates while they are alone will make your job easier. Others should not see it. You can catch a suitable moment and attack. So how do you do this?
When you approach one of them, a sword icon will appear above your friend's head. If you click on it, the process is complete.

But you can't leave them like that! The evidence needs to be destroyed. Completely destroy what's left of them by pressing the sweeper icon above their head.

If you have to attack a crewmate next to their friend, we recommend that you eliminate the body you attacked as quickly as possible before the other friend sees them. You should do this with your friend's back turned.

In later levels, you will see red buttons in some regions of the control room. By pressing these, you create a wall. You can use these to keep crewmates apart from each other. These walls can be beneficial, especially as the number of crewmates increases in later levels.
Using Grids
There are grids in some areas of the control room. You can use these grids to go from one place to another quickly. When you approach the grid, you will see an icon above it. Click the icon to switch quickly.
Impostor's Costumes and Weapons
Before you start playing the level, you will see icons on the right and left sides of the screen, the right one for the costume and the left for your hero's weapon selection. As you level up, you can spend the money you earn here. This can make the game more enjoyable. Especially among the costumes, some masks will interest you very much, and one of them is Jason's mask from Friday the 13th!
Slashing Fruits
After successfully passing some levels, Among Imposter will give you a bonus level where you are slashing fruits coming towards you.
Rules of Among Impostor
You cannot let another crewmate see the body of a crewmate you attacked. Otherwise, there will be panic, and the game will fail. You must be very secretive, careful and meticulous to not reveal that you are an impostor!

You will see a bar at the top of the screen. This bar fills as crewmates complete their duties. A full bar signals game over, so your goal is to prevent this bar from reaching its limit.
Is Among Impostor an Unblocked Game?
Yes, Among Impostor is an unblocked game that you can access from everywhere as long as you have a stable internet connection.
Controls
Use the WASD or the Arrow keys to move your character;

Use the Space key to attack a crewmate;
Press E to clean up;
You can also use the scroll pad and left-click to do the above actions (optional).